Q&A With Aracari's Culinary Partner, Tammy Gordon
As part of a new series, showcasing the experiences provided by some of Aracari's hand-picked travel partners, we'd like to introduce you to Tammy Gordon. She is a Peruvian restauranteur and food entrepreneur, based in Cusco, that Aracari has partnered with for many years to provide memorable breakfasts, dinners, and gourmet lunches for our guest's private expeditions in and around the Sacred Valley. 
Always amazed by the elevated cuisine Tammy's team cooks up and prepares for our expeditions. Over the years many Aracari guests' have fed-back to us how their trips have been heightened by the al fresco dining we've arranged for them. This level of consistency and quality is why Aracari has continually picked out Tammy and her team as our catering partners in the Sacred Valley, for so long. As travelers ourselves, we love eating great cuisine outside and we know our guests do too. After the year the world has just experienced, dining al fresco, in the company of good friends, and amidst breathtaking natural scenery and fresh air is something most of us by now are craving in 2021. With this in mind, we want to shine a light on our culinary partner, Tammy's life in food, and find out what she had to say about the joys of dining al fresco.
1.What's your fondest memory of cooking and eating outdoors? 
As a little girl, who grew up in the mountains, being a girl guide was inevitable for me. We always used to cook and camp outside. Perhaps that's why I've always loved the feeling of being out in the wilderness. In these beautiful environments, even simple meals can become extraordinary. So my fondest memory goes back to the days when my mother used to pack up a picnic basket with all of our favorite things inside. She would pack the basket beautifully with a linen cloth. Anticipation for what she had packed would build inside of me, until we reached where we wanted to eat. My eyes always cherished the colors of the food as much as my tongue cherished the flavors. Eating outdoors gives you unforgettable memories. They're times when the bonds between people, friends, and family become special.
2.How did your career in food begin? 
Gosh! Where I'm from, seemingly everyone gets jobs in restaurants when they're studying. I was no different. Although I was lucky enough to be studying in the foodie capital of Australia, Melbourne, where I first started working as a waitress and bar girl in some of the city's legendary establishments.
I never trained as a Chef, but eventually, I found mentors like the renowned Greg Malouf who taught me about food and keeping it simple. He always used to say "remember your mother's kitchen", who alongside my two grandmothers fundamentally shaped my palette. Later, Julie Bonner took me under her wing and became the biggest mentor of all. I adored her because she taught me everything about conducting service in a restaurant. From keeping the front and back-of-house coordinated, to teaching the waiters how to connect with guests and creating untouchable wine lists. If you don't love all of this, then you won't get anywhere in this business. My restaurant has all of my mentor's souls!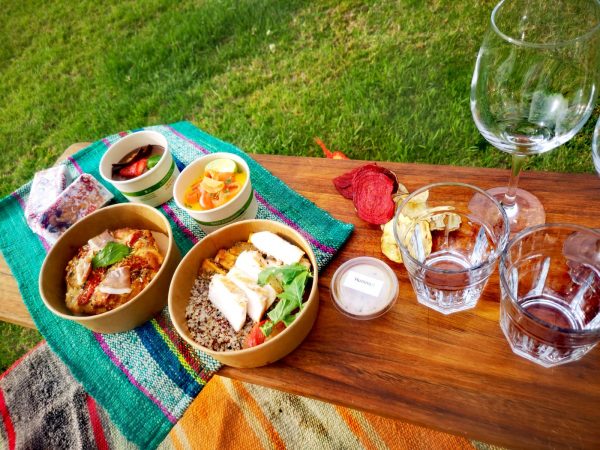 3. Tell me about your restaurant and catering business?
Cicciolina started in Cusco, 17 years ago, when the city was a very different place. A time when the city needed a wonderful restaurant and bar to cater for growing numbers of travelers to the Sacred Valley. The food combines wonderfully fresh, Peruvian produce with recipe influences from mine and my business partners' experiences. There's Peruvian-asian cuisine, Mediterranean inspired dishes, and influences from my mother's kitchen.
Our catering business began a year after opening the restaurant. Visitors to Cusco were going on these amazing day trips, hiking into the wilderness and they wanted good food and a quality experience. Once you're in the mountains, who wants to go inside a restaurant? Where would you find one anyway? So we came up with gorgeous picnics and focused on preparing high-quality lunch boxes. Using really good rustic ingredients in biodegradable packaging. Aracari was one of our first clients. A business with our sustainability values and who believed in us. We started small, but thanks to the support of many people, who have traveled with Aracari over the years and enjoyed our food, we have shown people how great dining in the wild can be.
4. What type of foods are in your picnic boxes?
Our takeaway picnics always contain beautiful, rustic breads, baked fresh from our bakery. They'll also be dishes prepared from an array of locally grown, fresh produce. Visually it's just beautiful. You can take away a cheese and wine box for a romantic afternoon, we'll include fresh orange juice, croissants, and smoked trout with plunged coffee for anyone planning a morning excursion. Everything is gorgeous, everything we do is thinking about flavors, textures, and what would be delicious in the outdoors. It's about keeping it simple and focusing on quality. We even give Aracari guests beautiful, traditional blankets and big, fluffy pillows to take with them. This way they can throw them down wherever they fancy enjoying their picnic.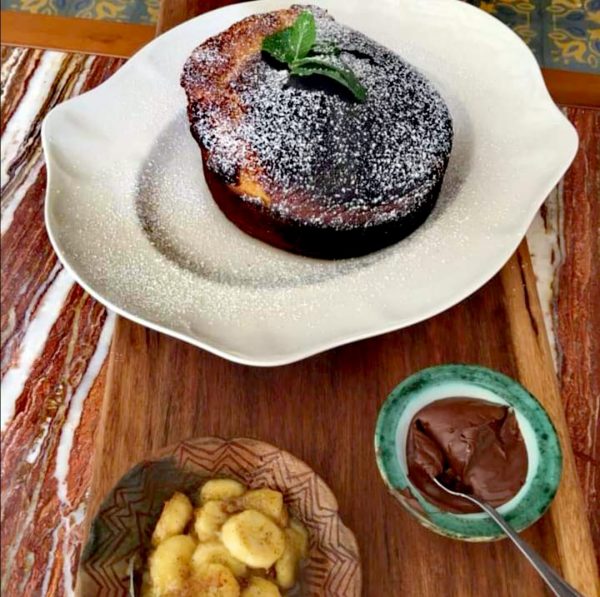 5. Can Aracari guests bring your chefs on their excursions?
Yes, many Aracari guests have previously enjoyed one of our fully serviced al fresco lunches. We'll send our chefs and waiters out with an expedition party, to set up a kitchen by a lake or in the mountains and prepare a full-service country lunch with beautiful ceramic wear, organic produce from the region. All the food is prepared outside under rustic tarpaulins amid stunning scenery. It's wonderful because everyone can see what we are doing and they discover some of the incredible native produce we work with. Our aim is always to try to blow people away with flavors and service.
6. Do guests have a choice of food, or is it pre-specified?
We prepare a wide selection of dishes that appeal to all palettes. Guests are always amazed by the spread we present them with, so most don't pre-specify what they want to eat. Of course, we are always flexible, so if guests want to make requests before their trip they can ask us anything. 
The food we prepare will always differ depending on the type of excursion. That is; where we're traveling, what the climate is like, the duration of the trip, and what produce is available. You know those cold days, a hot steamy vegetable soup is wonderful, but on those hot Andean mountain days; cold wine, quiches, roasted meats, and organic salads go down well … it all depends.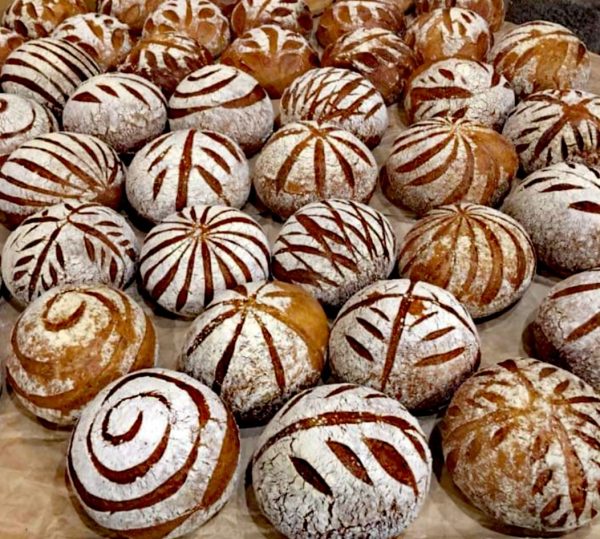 7.Where do you source your produce and ingredients from?
As mentioned, we operate a bakery that bakes all our breads, but we also have a hobby farm that supplies both the restaurant and our catering business with local organic produce. The variety of produce is fabulous and we even use a few wild ingredients in our cooking. At different times of the season, you can discover an amazing array of potatoes and mushrooms in the mountains. The root vegetables that are available to us in the Sacred Valley makes lots of wonderful dishes that we include in our menus.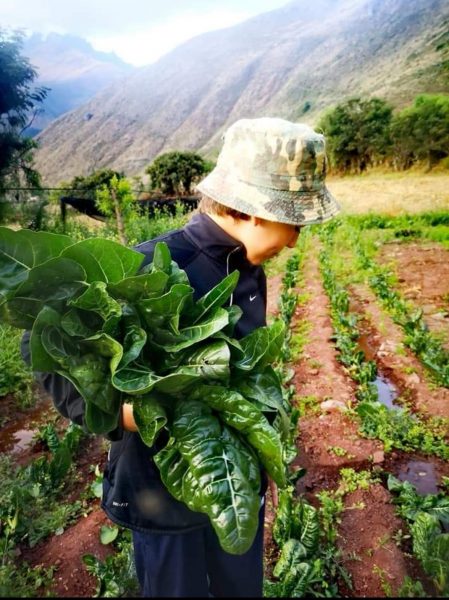 8.Why do you think people love eating in the wild?
Everything tastes different outside, just being in nature everything tastes better. The wine flows more freely and people change when they eat in the wild … you can see they relax and live life at a different rhythm, just enjoying the feeling of life and being free. When I'm cooking in a spectacular location, I often think to myself that I could just serve bread and water here and people would be over the moon. 
—
All Aracari's picnics, lunch boxes, and dining while on visits and hikes to the Sacred Valley include Cicciolina's wonderful food. If you'd like to incorporate such an al fresco experience into your itinerary then please contact one of our advisors (travel@aracari.com). If you're just generally interested in Peruvian cuisine, then you might enjoy downloading our latest edition of the Peru Food Guide.