Maximo Laura is an award-winning tapestry weaver, internationally recognized as one of South America's pre-eminent and most unique textile artists. Caroline, Maria Julia and I went to meet Maximo and learn about his work, driving out to his home and studio in San Martín de Porres, on the outskirts of Lima. At an address without a sign, in an unassuming local neighborhood, we were intrigued to visit his private home as it sits well off the typical tourist trail in Lima.
We were greeted with a treasure trove of vibrant, colorful artwork, a fascinating workshop where you can see each step of the process involved in creating his master pieces, and a warm and personable artist, delighted to share his passion with guests.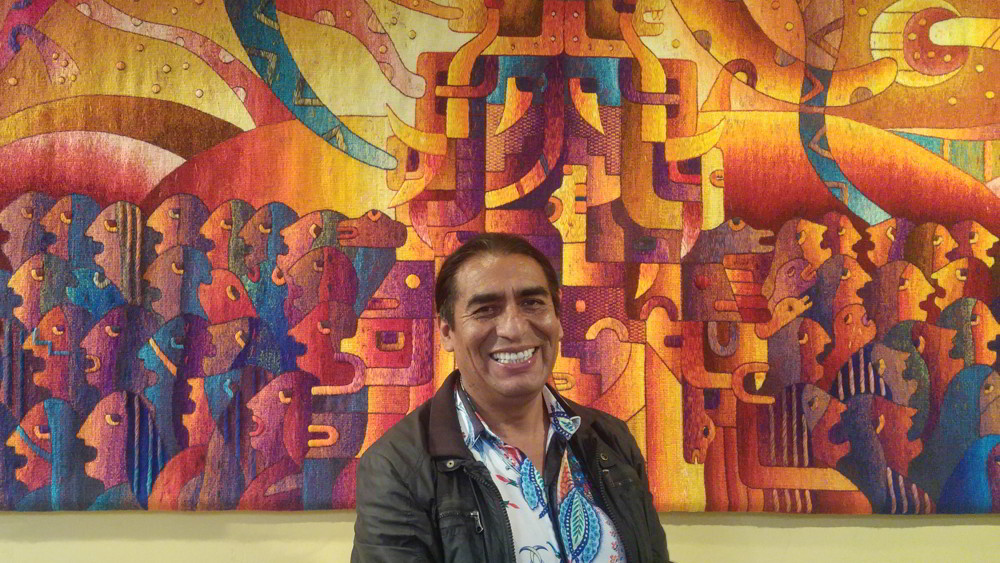 ---
For visitors to Peru with a specific interest in textiles, Aracari can arrange a private tour and the chance to meet Maximo Laura, as part of a tailormade itinerary, such as our 7 day Textile Traditions itinerary. 
---
Maximo Laura – from a family of weavers
Originally from Ayachucho in Peru's south-central region, Maximo is a fifth generation weaver, learning the craft from his father as a child. The themes and imagery evoked through his work convey a strong sense of his heritage, and his own spiritual journey and life experiences.
Motifs and Inspirations
Peru's pre-Inca Chavin culture, which was expressive and totemic, the vivid colors of the Paracas civilization, the geometric forms from the Nazca and Huari people and Andean symbols can all be seen in his work. Myths and legends from the Amazon, from the sacred mountains of the Andes and messages of marine conservation from the depths of the ocean in the Galapagos are conveyed through the intricate threads. Each piece tells a story, many of them personal.
Drawing on local myths, legends and stories Maximo seeks to capture the spiritual and transcendental – one piece hanging in his living room followed his experience in the Amazon jungle of Iquitos, where he tried ayahuasca, a plant mixture known for its potential to alter the state of consciousness after consuming it. Recurring motifs in his work include coca leaves, serpent heads, birds (representing air) fish (representing water) and music.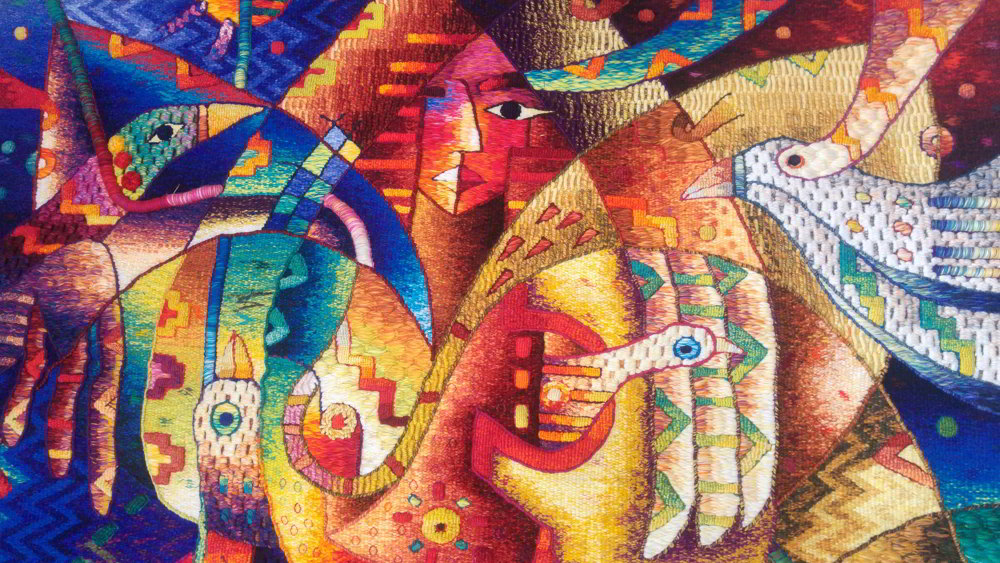 Maximo is also influenced by the contemporary art world around him, and draws inspiration from some of Peru's most renowned artists such as Fernando de Szyslo, Gerardo Chavez and Pedro Caballero Pérez, and surrealist and optical international artists like Paul Klee, Pablo Picasso and Salvador Dalí. The result is a distinctive and unique style, juxtaposing ancient origins and tradition methods of production with contemporary flair.
Maximo Laura – the tapestry weaving process from start to finish
The process in creating his tapestries stays true to traditional techniques, with a little help from modern technology. We started in his home office, which is a stockpile of over 3,000 unique drawings on tracing paper. A graphic designer helps transform Maximo's hand-drawn sketches to carefully scaled blue print which are then printed for weavers to follow. A notable feature of his design process is that each drawing forms part of a series – he may have up to 300 designs, resulting in 300 textile pieces, as part of one series. Maximo commented that the reason he is so inclined to create series of works is to overcome the challenge of expressing big ideas in limited space.
The actual weaving is then done on large, traditional floor looms, by a group of master weavers who have been trained by Maximo himself. Read more about the intricate process from start to finish on Maximo Laura's website. While conventional traditional weavers usually specialize in one style or method of weaving, Maximo plays with traditions by incorporating multiple at a time. Maximo has diligently studied a vast array of techniques so that he can manipulate them, vary them and use them simultaneously to produce his striking final artworks.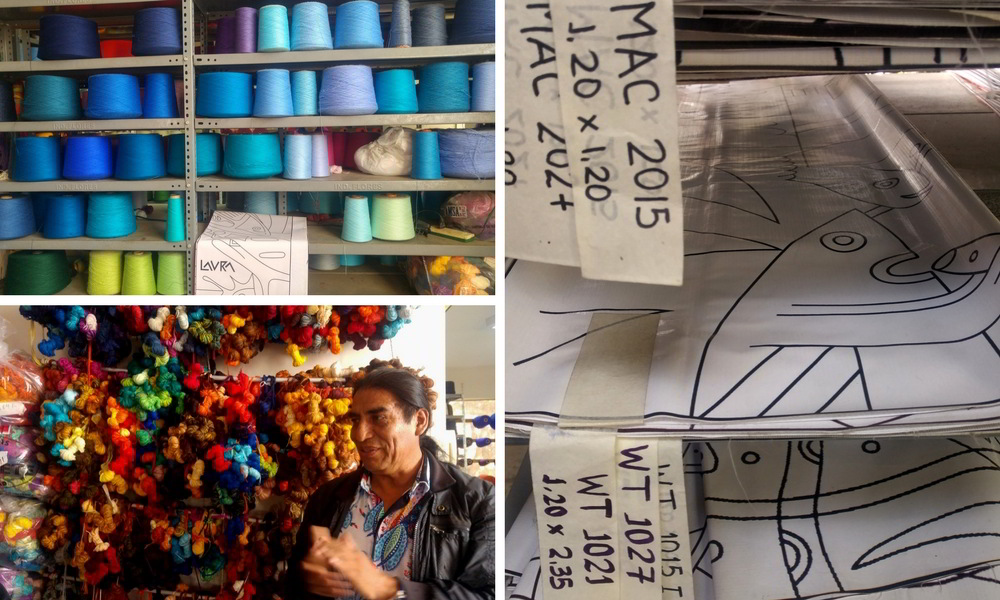 Visiting Maximo's studio and gallery in Lima is a special treat. Watching the weavers at work, you get a true sense of the craftsmanship and skill that goes into each piece. We saw a weaver working on a beautiful textile which he had started six months ago, and was due to be finished the following week.
As you climb up each storey of the four-floor building, another step in the process is revealed. My favourite was the "color laboratory", as Maximo calls it, a thread depository, where a huge collection of fibres are kept, including alpaca, vicuña and synthetic threads, all achieving an impressive rainbow of hues to choose from. Maximo uses some synthetic threads to achieve some of the incredibly bold and bright colors, which are a typical hallmark of his work. He explained to us that his priority is color over thread fibre, so while he would happily use more of the likes of alpaca, it has greater limitations for strong hues that are so fundamental to his designs. The threads are carefully selected and blended in groups, to create the most subtle changes in hues, creating the intricate detail and trademark 'paint like' appearance of Maximo's work. For guests with enough time, Maximo can also arrange a demonstration of how the colors are dyed.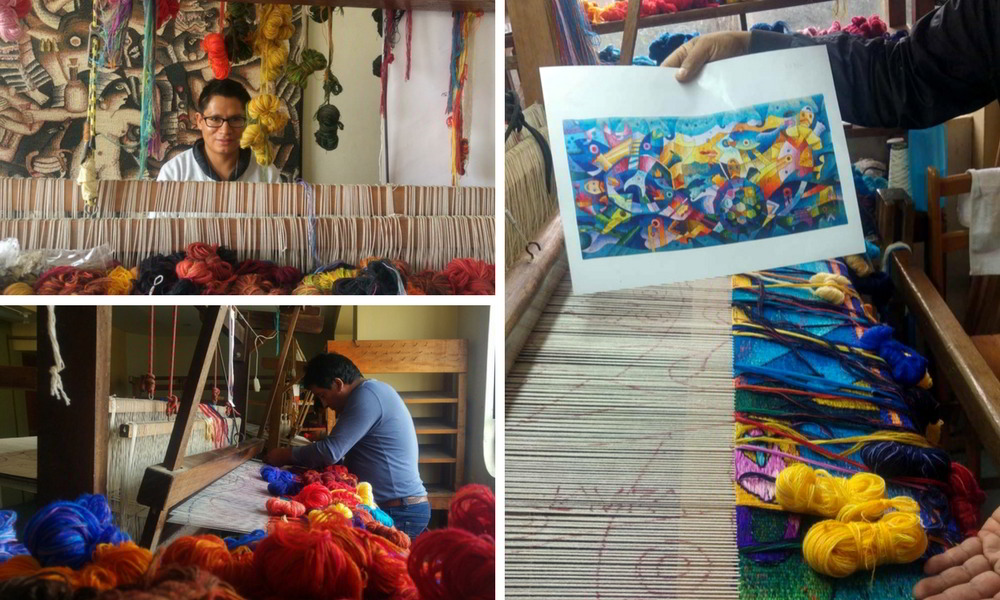 During a visit, Maximo will show you each stage of the process, from research, design, the weaving process, right through to the finished product. You'll get to view his private collection, and a huge selection of work for sale. I wanted to buy them all! We visited both his principle house and workshop and his second, just a couple of blocks away, which has more hung work in a gallery.
Maximo Laura – representing Peruvian textiles on a global scale
Maximo's unique creations have received international acclaim, both as a contemporary artist, and for his contribution to Peru's textile legacy. His work is on display at the World Bank in Washington DC, the UNESCO Headquarters in Paris, the Smithsonian National Museum of the American Indian, the Museum of Iberoamerican Craft in Spain, the Museum of the Americas in Miami, the Latvian National Museum of Art, and the National Museum of Peruvian Culture.
He has participated in over 140 exhibitions in more than 29 countries, since his first exhibition at the Cultural Centre of Buenos Aires in Argentina in 1985, including many high profile solo exhibitions. Maximo is the co-founder of the Iberoamerican Textile Network and the Peruvian Centre of Textile Art.
Maximo Laura –  Cusco Galleries
For visitors to Cusco, Maximo Laura also has a gallery and shop conveniently located in San Blas, Cusco, where you can browse and buy his work. He is due to open another, additional gallery in Cusco in 2017. His large pieces – some of which can take over six months to make by hand – cost in the region of USD $1,800. In his Cusco shop, he also has more economical prints and souvenirs like mugs.
---
If you have a special interest in Peruvian textiles, have a look at our 7 day Textile Traditions itinerary, which includes a visit to Maximo Laura, and other special textile experiences. Aracari specialises in luxury, tailormade trips to Peru, and we'd be happy to incorporarte this visit into a bespoke trip. Contact us or email travel@aracari.com