Aracari's head of marketing Caroline, tests out a new culinary experience for our guests, tasting her way through the streets of Cusco and learning more about Peruvian food with every bite!
Peru boasts an almost unbelievable number of ingredients and rich culinary history, sitting firmly on the international food scene as a must-visit culinary destination. Cusco, the heart of the Inca Empire, is surrounded by the Andes which are recognized for their wide array of natural ingredients.  Ancient superfoods like quinoa and kiwicha sit alongside the seemingly humble potato; nearby, the Sacred Valley lays claim to a special variety of corn, the giant choclo. 
Aracari now offers a special food-focused morning tour, led on foot by one of the city's top professional chefs, so on a recent trip to Cusco, I went along to meet one of the chefs and test it out.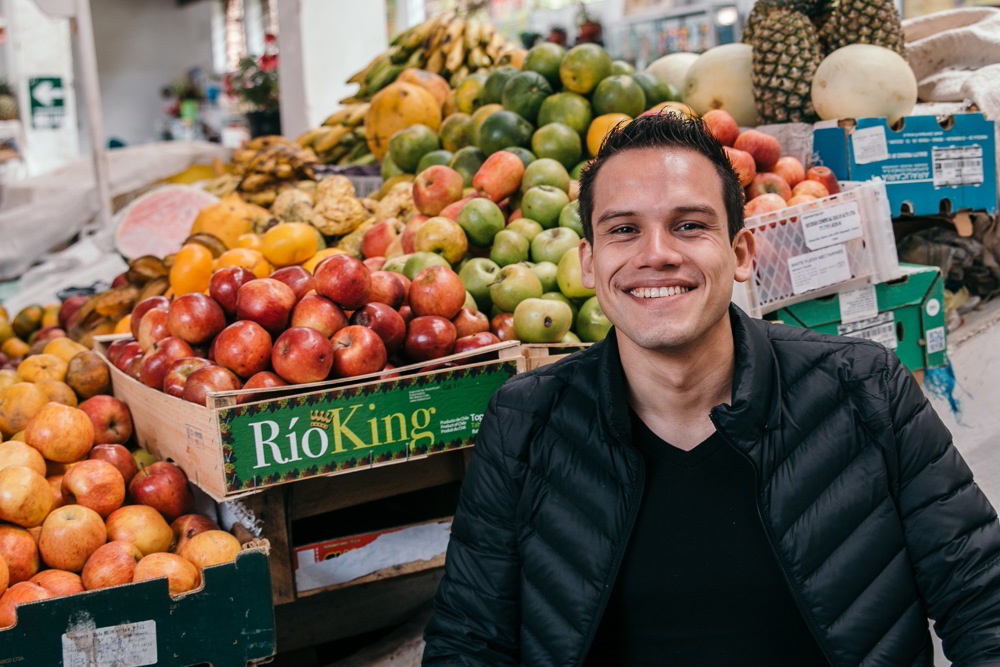 Cusco Food tour with a professional chef
Ingredients and their diversity from Cusco and beyond have helped inspire the country's leading chefs to deliver internationally-acclaimed fare, consolidated Peru's position as a gastronomic epicenter. On this tour you're led by one of our two professional chefs:
Rodrigo Balbontín | Born in Chile, but raised gastronomically in Peru, Rodrigo took his first cooking class at the age of 9. Studying at Le Cordon Bleu in Peru's culinary capital of Lima, he has worked in the kitchens of many of the country's top restaurants including Astrid y Gaston, Rafael and Maido, as well as gaining experience abroad in London, Madrid and Barcelona. Rodrigo is passionate about food and experimenting in the kitchen, and enjoys sharing his love of cuisine with visitors.
Stephan Joubert | Originally from Johannesburg, South Africa, Stephan studied culinary arts in his home city before exploring the world through top hotel kitchens including the Radison Blu Saton and the Ritz Carlton Resort in Naples, Florida. Marrying a Peruvian sparked his love for Peruvian food and the never-ending discovery of the country's ingredients and flavors in the markets and the kitchen.
Tasting your way around Cusco on foot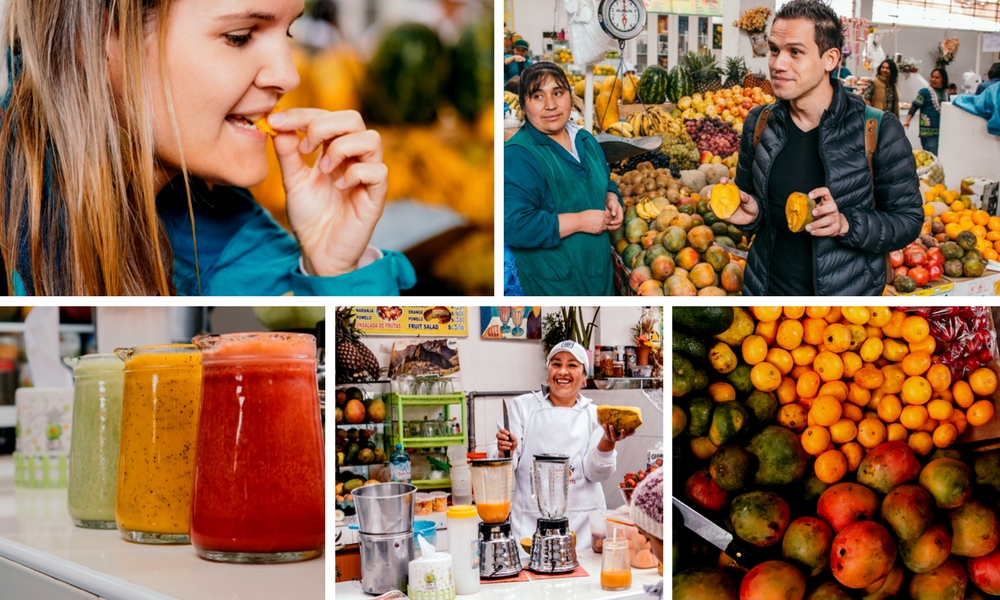 I was led by Rodrigo for my Cusco food tour. We meet up in the neighborhood of San Blas, and began by heading to a local bakery, Pantastico, which uses traditional Andean grains like quinoa, kiwicha and maca to create delicious wholesome loaves. I sampled a few and was impressed by the rich grainy flavors that came through.
At San Blas market, Rodrigo pointed out some of the grains I had just tried in the breads, on display alongside a multitude of exotic fruits and vegetables. We headed to his favorite vendors to show me some typical Peruvian ingredients – where they come from and what they're used for. Exotic ingredients sit alongside the ones we're more familiar with – like the humble potato and tomato – both of which are originated in Peru, long before the Italians or Irish ever heard of them! Rodrigo was very knowledgeable about all the ingredients and shared anecdotes about how he uses them in the kitchen. It was clear that this is where the chef's come to shop.
Next up he took me to a popular juice stall to sample some of the new fruits discovered in the market while tucking into a local sandwich from the stall next door, owned by the sister of the juice vendor. I loved the refreshing fruit flavours – blended concoctions with lucuma, mango, banana, infused with hierba luisa (an Andean lemon grass) and kion (ginger) and then walked to an ice cream shop to enjoy a sweet taste of Peru's flavors.
Cooking lesson & Pisco Sour Class with a top Cusco chef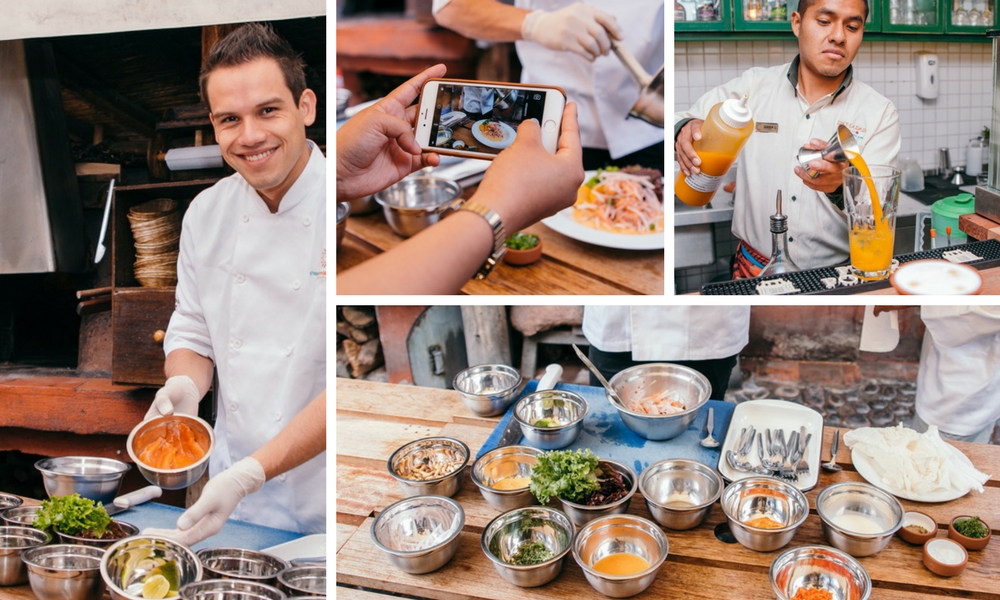 Next up, with a whetted appetite, we headed to Pachapapa restaurant to learn about using some of the ingredients discovered in the market. At the bar we learned to make Pisco Sours with one of the resident bar tenders – involving pisco, sugar syrup, lime, egg and lots of shaking! In addition to the classic, I also tried a refreshing maracuyá sour (passionfruit), which I highly recommend, as well as coca, used in the Andes to help with altitude sickness. 
Then we headed out to the restaurant's courtyard patio where Rodrigo was ready to give us a private mini-cooking lesson. Under his expert supervision we prepared a delicious trout ceviche before sitting down to enjoy it with our pisco sours – the wonderful reward after a fun morning of exploring Cusco's foodie sites.
This was a wonderful morning tour – a great way to learn about Peruvian cuisine, sampling along the way (the best part!), and an interactive experience with a great chef!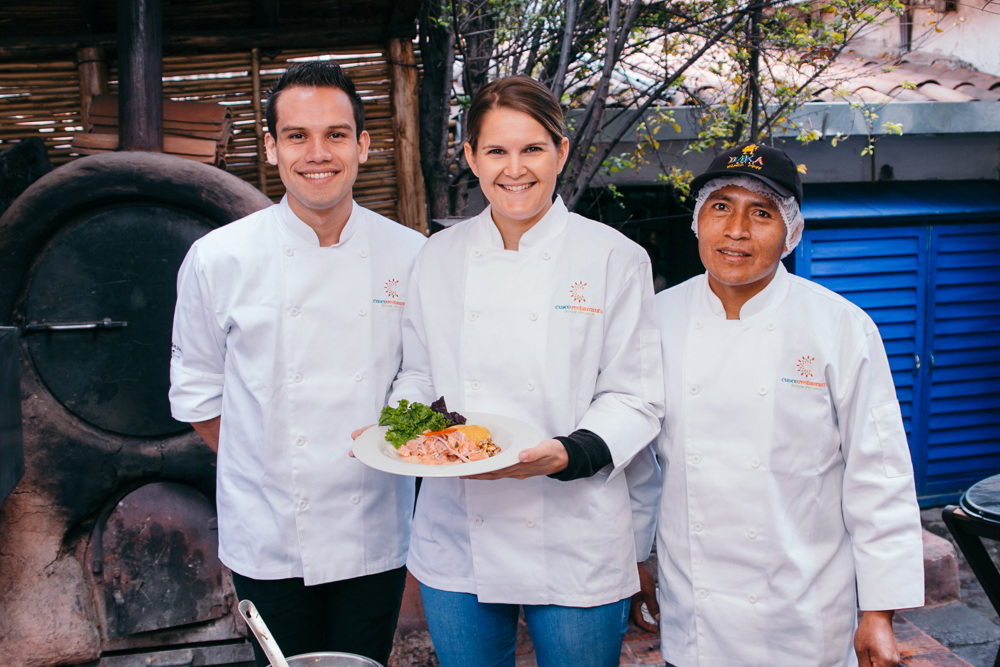 ---
Aracari specialises in luxury, tailormade travel to Peru, Bolivia and  the Galapagos. Have a look at our Culinary Travel page if you're interested in foodie-themed travel, and our special Peru with Flavor itinerary. If you'd like to plan a  trip to Peru including this Chef-led Cusco food tour, contact us or email travel@aracari.com