After traveling to Peru with Aracari, many of our guests often return home with precious keepsakes – handmade mementos of a special adventure to treasure forever. Of course, that isn't uncommon for vaccinations to Peru with so much to see and do in the country, however what is unique to Aracari, is our unrivalled connections to the indigenous design and Peru arts and crafts.
Our quarter century worth of experience makes it possible to connect our guests to some of the most authentic, and ancient craft practices in the Andean world. Whether that's traditional weaving in the mountains of the Sacred Valley, or the contemporary pottery work of the Northern coastline. With our privileged access and insight, guests can trace the length and breadth of crafts in Peru discovering genuine collectables they won't find anywhere else.
So, at this festive time of year – we wanted to impart some of our knowledge with you. To show you where to find the very best native crafts in Peru, traversing through desert and coast, mountain and jungle.
Think of it as your gift guide to Peru, and the perfect accompanying reading for a browse through Aracari Shop.
Showing you what to buy from where during this special season of giving.
For exquisite jewellery – follow the coastline
Peru's 1300-mile coastline is awash with must-see destinations. From the white sands of Mancora, home to some of the most luxurious beach houses in all of Peru, to the rich biodiversity of the Ballestas Islands, to the port city of Pisco, the founding home of Peru's most famous tipple.
All of this makes for an incredible vacation along Peru's coast – but what you'll also find here is the inspiration behind some of the country's most prominent jewellery makers. The tradition goes back generations, and many of those living and working here still employ the same ancient techniques.
Two such jewellery designers are Carole Fraresso and Ester Ventura. Carole Fraresso and her brand Motché – takes us to Peru of yesterday and today, and is focused on the recovery and transmission of the cultural heritage present in Peruvian jewellery. Whilst the pieces of Ester Ventura, also blend both the past and the future – giving shape to a mythical splendor.
The best news is you can discover the latest collection both from Carole Fraresso and Ester Ventura on Aracari Shop right now.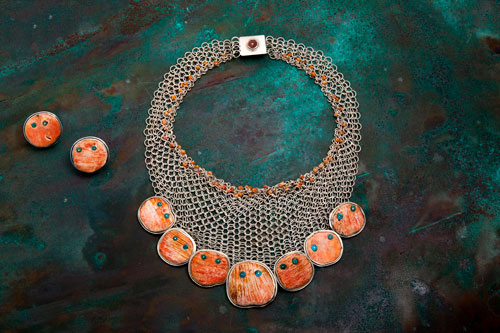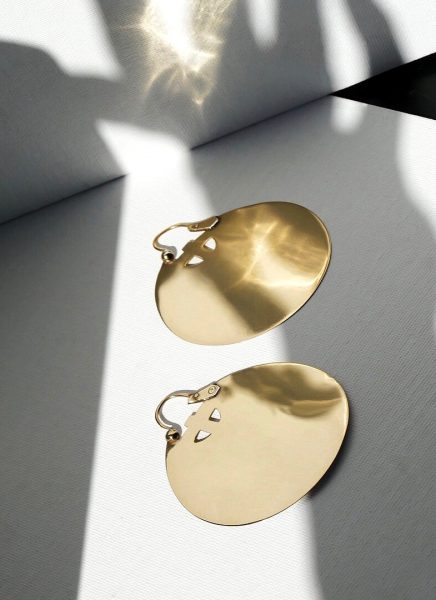 For beautiful pottery – head to the Northern coast
The Ancient Peruviana people, who lived on the Southern and Northern coats were skilled potters – places such as Moche, Chavin and Nasca. So it's on the Northern half of Peru's stretching coastline that you'll be headed on the search for some staggeringly beautifully contemporary pottery work. The land here is of a reddish hue – with desertscapes than span hundreds of miles. It's this clayey soil that has inspired some of the finest contemporary pottery in the country, such as the wonderful Chulucana pottery from Piura near the white sandy beaches of Mancora.
Visitors to this part of Peru can expect to combine exploring the ancient ruins of Chavín, the treasures of Trujillo, Lambayeque, and the ancient sites of Huaca de la Luna and Chan Chan – with shopping the incredible pottery made locally. In fact, we have a whole itinerary dedicated to the wonders of the north, aptly named Undiscovered Peru.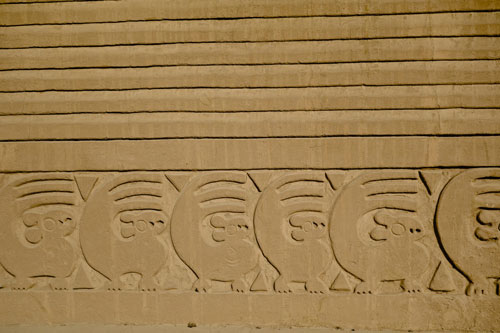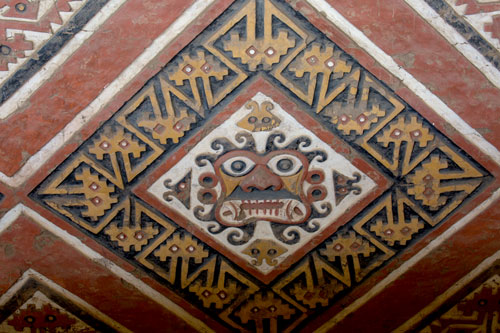 For painted textiles – come with us to the Amazon River
The Peruvian Amazon really is like no other place on earth. The flora and fauna alone are enough to dedicate an entire Peru vacation to. Many Aracari guests have made unforgettable memories here, whether it's cruising the Amazon River aboard one of our luxury vessels, or sleeping in the treetops – inside a Rainforest Alliance lodge. However, this region is also home to some very special native crafts in Peru.
The Shipibo tribe are a people who live along the Ucayali River in the Amazon rainforest of Peru. Their painted textile work uses patterns believed to heal physical, mental, emotional and spiritual ailments, with each design carrying its own unique meaning. Some are said to bring wisdom or protection; others attract abundance. The cloths are worn as skirts, placed on tables or beds, hung on walls or used in ceremony – and make for the most meaningful of gifts.
For handwoven textiles – journey to the Southern Andes
It's no secret that Peru's textile history is deeply woven into the country's cultural fabric. Over the centuries, the brightly coloured, naturally dyed weaves have been credited with putting Peruvian artisanship on the global stage. However, it's because of the widespread popularity – that it takes specialist knowledge to find the real article.
The Southern Andean mountains are the place to be for the best handwoven textiles in Peru. The authentic master weavers here practice a craft that can be traced back even further than their Incan predecessors. Alpacas and vicunas are native to this part of the country. Once their fur has been farmed, weavers in high-altitude cities like Cusco and other smaller towns turn the premium fibres into fashion and art.
It's master craftspeople like Timoteo Ccarita and Nilda Callanaupa who are helping to ensure these traditional artforms live on. As an artist, Timoteo mixes old and new motifs and by doing so he adds new levels of meaning to traditional design.  Tapestries are his signature piece, a perfect blend of the cross-cultural elements of the 16th and 17th century, with Inca techniques and design. We have an exclusive curation of Timoteo's work available now on Aracari Shop right now.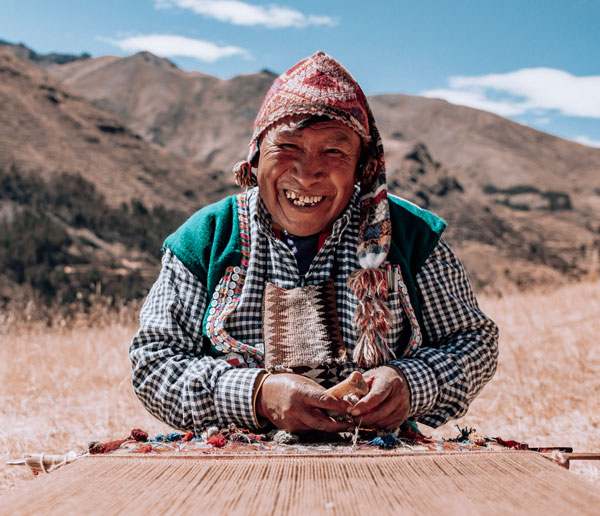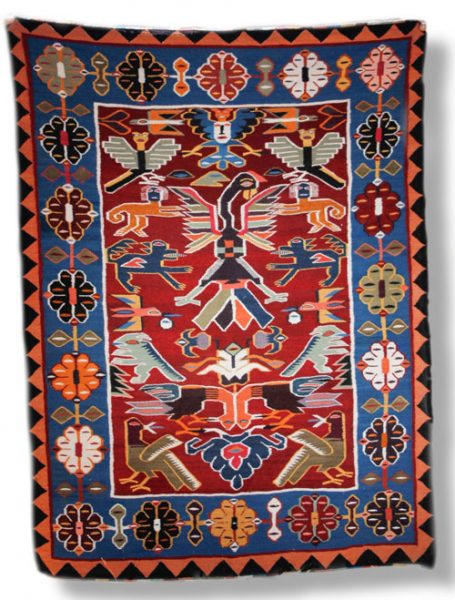 Likewise, Nilda Callanaupa, who founded the Center of Traditional Textiles of Cusco (CTTC), plays an enormous role in preserving ancient technique for future generations. A visit to CTTC can be included on many of our tailormade itineraries in the region.
For wood carving – join us in the jungle
A stay in Peru's Amazon jungle is a trip that is naturally filled with great adventure. At Aracari, we connect our guests to some of the most ethical and sustainable travel options available in the region. From Tambopata Research Center (TRC), one of the most remote rainforest lodges in South America, to Inkaterra Reserva Amazonica, tucked away in a private ecological reserve on the banks of the Madre de Rios River.
It's here that you'll also find incredible wood carvings, handmade by the indigenous tribes who live in this part of the jungle. Used for both ceremony and practical functions, these wood carvings are a tradition that dates back countless generations. And it's through our connections to the sustainable lodgings in the jungle that Aracari guests can journey home with the most authentic and beautiful wood carvings in all of Peru.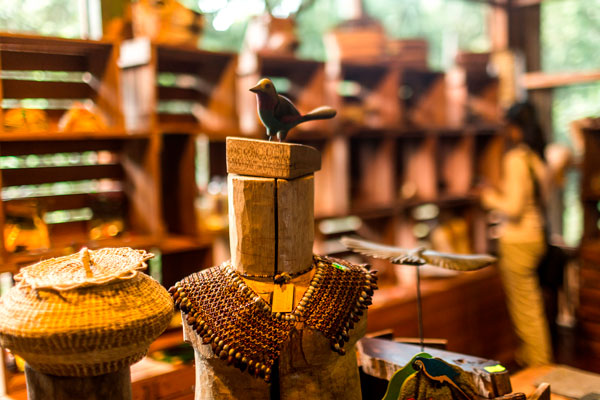 Many happy returns for the festive season and the year ahead
So, there you have a map of shopping in Peru, one that journeys through the most incredible craftsmanship the country has to offer. We hope our guide leaves you with not only with the knowledge you need to give a gift with a special meaning this Christmas, but that it's also left you inspired for an adventure in the year ahead.
Speak with Marisol and her team today – and allow Aracari to connect you to your own Andean adventure in 2022, to explore a country rich in craft and culture.